Scouts in Vietnam to install solar lights for ethnic community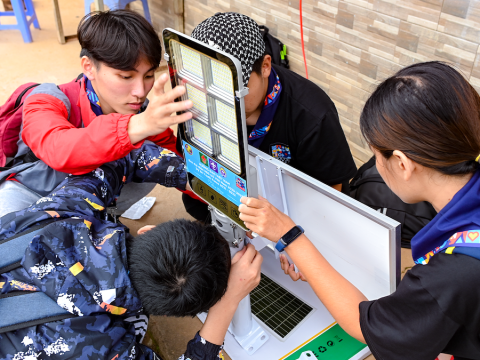 What an inspiring way to camp. Young members of Pathfinder Scouts Vietnam (PSV) had lots of learning and fun at the Better World Camp 2022 held in Da Lat, Lam Dong on 1-3 July 2022.
Scouts from all over Vietnam learned mainly about Scouting's educational initiatives, how to effectively communicate projects, especially in attaining the 17 Sustainable Development Goals (SDGs).
The camp included 14 sessions both online and offline with various content such as project planning, management & sponsorship, financial management and especially, design thinking and SCRUM project management - a whole new content from experts in the field of startups and technology.
During the camp, the participants not only learned but called for financial contributions from leaders and Scouts across the country to sponsor and install eight solar lights for disadvantaged K'Ho ethnic families in Bidoup National Park. Inspired by Scouts Go Solar initiative, this journey wil not only light up the lives of the local people, but also will light up how the young Vietnamese Scouts can make a real impact on the community with their abilities.
Aside from that, organisers of the Better World Camp – PSV Youth Force 2021 – invited various speakers from the development industry who have done development projects. They shared their experiences on how to handle projects, seek funding and grants, amongst other things. One of the goals of this camp is to mobilise the youth to plan initiatives and implement these, with support coming from PSV leaders and National Fund, within six months after the camp concludes.
--------------------------------
Written by Nguyễn Hoàng Bảo Huy and Aaron Lopez
https://www.facebook.com/psvyouthforum