Kenyan Scout supports teens through pregnancy, motherhood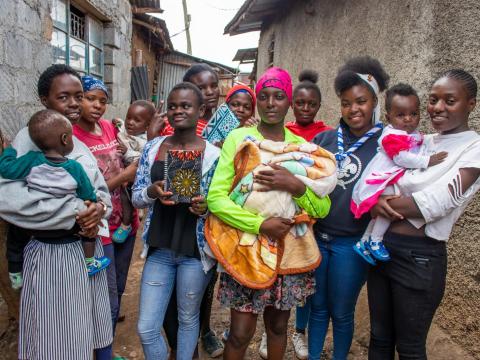 Kenyan Scout Ivy Akii is helping build a brighter future for the country's growing number of pregnant teenagers, empowering them with an entrepreneurial skillset and network to address gaps in access to social, health, and financial support.
As public services stopped or slowed over three months of nationwide lockdowns at the height of the COVID-19 pandemic, more than 152,000 teenage girls became pregnant, a 40% increase in monthly averages, according to VOA.
Determined to help, Ivy launched Gingko Africa in Kibera, the poorest district in the capital of Nairobi, in May 2021. Gingko supports and teaches women and girls aged 13-19 - many without family support – in finishing their education and starting businesses to create better lives for themselves and their children.
Entrepreneurship for youth empowerment
A Scout since the age of six, Ivy has honed a diverse set of valuable life skills – from teamwork and problem-solving to critical thinking and creativity – that she hopes to pass onto others through Ginkgo.
"We need to empower girls through social support, health education, and skills training, so they can be successful, confident and independent," explained Ivy, who recently joined the World Scout Bureau as an intern for youth programmes.
Through Gingko, women and girls gain a support network that encourages socialisation and learning together to improve physical and mental health. Crucially, they are also taught to make various products, including notebooks and soap, as well as how to sell them to generate an income.
"My goal is to make sure that the girls and young women in the programme don't need Gingko anymore. When they don't, that means it's working," Ivy said, adding that she hopes to enable these women and girls to "turn their passions into something profitable".
The next step, Ivy explained, is to teach them how to run and maintain a business. While some may opt to sell unique handmade products, others use their entrepreneurial skills to turn their personal passions into careers such as beauticians, chefs, and more!
Girls return to school thanks to money earned
Gingko is changing lives. In June 2022, Ivy shared the exciting news with eight young mothers that after just one month of business, the group had sold nearly enough products to cover a semester of school fees. While their unexpected pregnancies could have seen them drop out of school completely, the program and network at Gingko made it possible for them to stay in school.
This wasn't Ivy's first successful cohort at Gingko - and it won't be her last! Through the organization, she has empowered 72 pregnant teens and teenage mothers with 206 hours of training in just one year. So far, over 2,000 people have benefited from Gingko's programmes, including students at six schools where they've provided education to mitigate the prevalence and effects of teen pregnancy in Kenya. 
Encouraged by a year of successes, the programme is expanding into other counties across Kenya. Young women who have already been through from the programme in Kibera will help train new beneficiaries. Ivy has also co-authored a book to raise awareness of reproductive health, personal development and entrepreneurship basics, that is being translated into French so that she can bring the programme to Burundi, Côte d'Ivoire and Senegal. 
The Gingko project received support from the Scout Donation Platform, the Global Youth Mobilization Local Solutions fund, the Kenya Scouts Association, and more partners. In 2021, Ivy's exemplary community work has earned her a Messengers of Peace Hero Award. 
Create a better, more sustainable world
Ivy is among the millions of Scouts whose actions are making the world's biggest youth contribution to the Sustainable Development Goals (SDGs). Her work directly supports many of these important goals, including on quality education, decent work, and economic growth. Importantly, it is also helping achieve gender equality by addressing sexual and reproductive health, and access to education for women and girls.
Are you making a difference in your community? Tell us about it at sdgs.scout.org!